These fish attack in the months of January through April.  We employ a light tackle recipe that will put fish on your line and a smile on your face.  Side drifting with roe is the most effective method and it's a whole lot of fun casting to a hole where a tenacious fish lay in wait! Hold on, there's nothing like the feel of a hook set on a feisty Steelhead.
Cold is not an option! Fish from the comfort of a heated drift boat on the river.  Our boats provide the best experience for your fishing adventure.  We can accommodate any size group you have.

Pound for pound one the very best fighting fish you will encounter.  The fall (Sept-Nov) is the prime time. This is also the most beautiful time of year to be on the water as the fall colors are beginning to change.
Floating from a heated drift boat, side-drifting with light spinning rods is the method of choice, these fish average 3 to 14 pounds, and as a bonus, this is the time of year that the Rogue gets its run of "half-pounders" which adds even more excitement to your trip.
For you hunters out there we also offer a "cast & blast" trip this time of year.  Enjoy hunting for waterfowl while steelhead fishing at the same time.  Be sure to inquire on specific dates as the hunting seasons change yearly.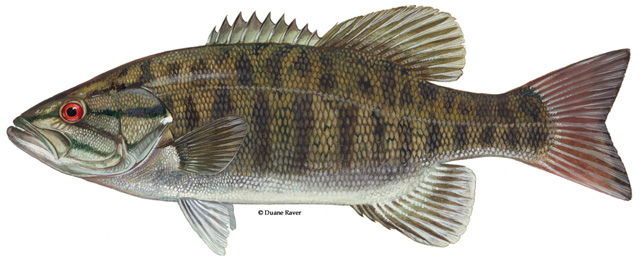 Umpqua River (day floats)
The Umpqua is renowned for its abundant small-mouth bass populations. Aggressive small-mouth bass averages 100 fish days to be a somewhat common occurrence on this particular drift, making it one of the finest fisheries of its kind in the country.  This is a wonderful trip, June through August, to enjoy for its active fishing and beautiful scenery.  This day trip is a must do if you have kids or grandkids.

We fish for large-mouth bass May thru June. Large-mouth Bass is considered the most popular gamefish in the United States. They are excellent fighters when caught on light spinning tackle.

May through July is the prime time for these chinook.  Back-bouncing roe and running Kwikfish® are the proven techniques for enticing these chromers.  The springer averages between 10 and 30 pounds.  These are one of the very best eating salmon you will ever have.  Their meat contains a little more fat and oil.
Most of these trips are done in powerboats, however as the season progresses, we fish from drift boats in the upper reaches of the Rogue River.


Fall Chinook & Coho Salmon
We start fishing for fall chinook in July in the Gold Beach Estuary. August and September are when the fall chinook arrive in the middle Rogue. Enjoy the day fishing from a roomy powerboat. We currently hold 1 of the 3 permits that allow powerboats to be used commercially in this section of the river.
These are the larger of the 2 runs of salmon we get.  They average between 10 and 50 pounds and put up a very good fight.
We also fish the small coastal rivers, Checto, Elk and Sixes in November and December for fall chinook.  Timing is everything, so be sure to call for your desired dates. We can accommodate any party size with advanced notification.
Trout & Scenic Trips - All Year